ALLERGY RELIEF TREATMENT
If you are one of the 70 million Americans that suffer from allergies or allergic illnesses such as asthma or sinusitis you already know how miserable they can be. What you may not know is that dust mite and pet allergen found indoors are one of the leading causes of allergic diseases. People with relatively mild allergies can develop very serious chronic and even life threatening illnesses if they continue to be exposed to these allergens.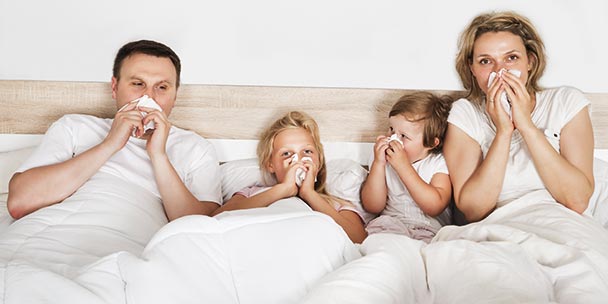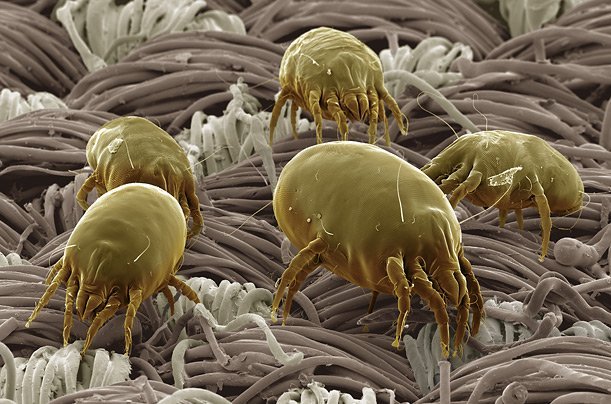 PET AND DUST MITE ALLERGIES
Dust mites are microscopic, eight-legged creatures that are 0.3 mm in length (7,000 can fit on a fingernail) and are invisible to the naked eye. It is the dust mite feces that causes the development and aggravation of allergies. A dust mite will produce 200 times its own body weight in feces during its short lifetime!

Mattresses contain 60% of the dust mites found in the home. Given that we spend up to one-third of our lives in the bedroom and are exposed to this highly potent allergen for long periods of time, the bedroom is the number one treatment priority.

15% of the U.S. population is allergic to pets and other animals and many people are unaware that they suffer from pet allergies. Symptoms include watery and itching eyes, hives, sneezing, coughing, wheezing and difficulty breathing.
HOW ALLERGY RELIEF TREATMENT WORKS
The Allergy Relief Treatment is applied after cleaning the textile or carpet to help neutralize the irritants caused by dust mites. It works by instantly de-activating the allergen DER pI in house dust mite droppings by denaturing and substantially reducing the IgE antibody-binding capacity of this allergen. As a result, they are no longer "recognized" by the body's immune system and they do not bond with the antibodies sent to destroy them.
ENJOY SIGNIFICANTLY REDUCED ALLERGEN LEVELS FROM NOW ON
When properly applied, Allergy Relief Treatment results are often seen within the first three days, and often during the first night!. It provides a residual effect for up to six months however for severe cases, treatment may be required every three months.
THIS TREATMENT IS SAFE FOR YOU, YOUR CHILDREN, PETS AND ENVIRONMENT
All of the products are hypoallergenic, non-toxic, dye and perfume free, contain no volatile organic compounds, or other hazardous materials and are biodegradable. In addition, the products are derived from renewable fruit and vegetable seeds. The products are virtually odor free and have been specially formulated for use around people with allergic illnesses and chemical sensitivities. Allergy Relief Treatment contains no benzyl benzoate and is not a pesticide or mitacide.
NOT JUST EFFECTIVE BUT AFFORDABLE
When compared to many highly expensive allergy control products and services you will be pleasantly surprised to find a treatment that is so effective and yet is an outstanding value at the same time.